Bring fine-dining to your home with this sensational gourmet fish recipe
Grilled or Baked Sea Bass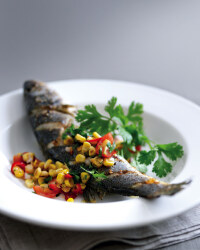 Recipe Information
Ingredients
4 Sea Bass, whole, defrosted
6 tbsp of olive oil
2 whole fresh sweetcorn
2 tsp of fresh red chilli, finely chopped
½ red onion, finely chopped
12 cherry tomatoes, quartered
2 fresh limes
salt and pepper
2 pinches of granulated sugar
3-4 tbsp of chopped fresh coriander
Find your ingredients online on Click & Collect or find your nearest store using our Store Finder.
Method
Pre-heat the grill or oven to a high setting.
Place the Sea Bass on a chopping board and slash across the fish in a diagonal fashion.
Carefully cut the sweetcorn in half.
Stand the corn on the cut end and shave off the ears with a sharp knife.
Do the same to the other 3 pieces. Meanwhile, place 2 tbsp of olive oil into a wok or frying pan.
Add the ears of sweetcorn and the chilli then saute quickly over a high heat until they take on a little colour.
Once cooked, spoon into a bowl and cool slightly.
To the sweetcorn, add the chopped red onion, cherry tomatoes, and juice from 2 large fresh limes.
Add a little salt and pepper, sugar, then mix well, finally add the chopped coriander.
Spoon the last 4 tbsp of oil over the 4 sea bass and season well with salt and pepper.
Place onto a baking sheet or tray and pop under the grill or in the oven.
Cook for 10-12 minutes or until lightly cooked.
Serve the bass whole spooning over the salsa.
Aldi Wine Matches
Looking for the perfect wine match for this recipe? See below for our dedicated recommendations:
Exquisite Leyda Sauvignon Blanc