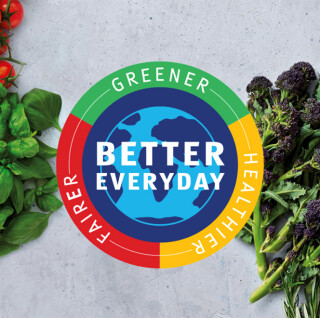 Our amazing fresh fruit and vegetables
Fresh, affordable fruit and veg takes a starring role at Aldi, from the humble British carrot, to tropical seasonal fruits, juicy sweet tomatoes, super fresh greens and peppery rocket salad. Discover amazing value on fresh food every single day at Aldi, as well as award-winning quality and a basket full of healthy meal inspiration.
Fresh, fruity and fun
Everyone knows we are what we eat, which means understanding which good nutritious foods to eat is so important. Here's a few fresh facts to help you do just that.
There's more fibre in an orange than in most other fruits and veggies. Amazing, right?

As a healthy snack, celery is hard to beat. Thanks to its high water content, 2 stalks contain around 25 calories.

Lemons are great for aiding digestion and you can simply add a few slices or freshly squeezed juice to your water.

Eating an apple can help you stay awake. In fact, the natural sugar in an apple is more potent than the caffeine in coffee.
Easy ways to eat more fruit and veg
Healthy eating starts with making sure you're getting enough fruit and veg. With our simple tips and swaps, you can make sure the whole family is eating their 5-a-day.
Easy sweet swaps
Fancy a snack? Rather than head for the nearest chocolate bar, try one of our easy snack ideas using refreshing, juicy seasonal fruits, like blueberries with yogurt and lime juice or watermelon with seeds.
Go meat-free one day a week
Reap the benefits of a more balanced diet and go meat-free one day a week. Adding lots of variety into what we eat is a great way to make sure we're heading for a healthier lifestyle.
Try our plant-based range for inspiration
Vegetarian diets typically encourage eating more fruit, veg, grains, beans and nuts that contain more nutrients and fibre with countless health and lifestyle benefits.

Meat-free meals can be naturally low in saturated fats and cholesterol and have been shown to reduce heart disease risk and improve health.
Growing fresh British produce
Find out how Aldi is committed to championing our suppliers and meet the makers who work so hard to bring us the finest food, all year round.
NFU Fruit and Veg Pledge
We were the first supermarket to sign up to fair deals for all our fresh produce suppliers.
Helping kids eat fresh
When it comes to eating well, eating fresh and eating really nutritious food, we love to teach kids healthy habits. Find out how our Peas Please and Veg Power initiatives are doing just that.
Award-winning quality and value
At Aldi, you'll find great value and quality across every range. That's why we have picked up lots of awards over the years, including Favourite Supermarket Retailer at the customer-voted Good Housekeeping Food Awards for the second year running.