A monster dark chocolate Halloween cake topped with Moser Roth Truffles, blueberries and blackberries.
Halloween Showstopping Dark Chocolate Cake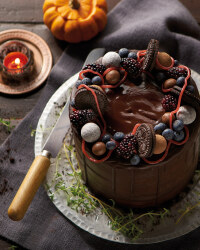 Recipe Information
Ingredients
3 x 20cm Loose Bottomed Baking Tins
2 Packets Chocolate Cake Mix
120ml Vegetable Oil
400ml Water
Ganache:
450g Dark Chocolate, chopped
700ml Double Cream

To Decorate:
50g Dark Chocolate
Cookies and Cream Biscuits
Moser Roth Truffles (Salted Caramel and Marc de Champagne)
Red Laces
Blueberries
Blackberries
Method
1. Pre-heat the oven to 180° C/Gas Mark 6.
2. Grease and line the baking tins.
3. In a large mixing bowl, use an electric mixer to combine the cake mix, oil and water and beat for a few minutes until smooth with a light consistency.
4. Divide the cake mix between the three cake tins and bake for 30 minutes until well risen and a cocktail stick comes out clean.
5. Remove the cakes from the tins and leave to cool.
6. Heat the cream until almost boiling then pour over the chopped chocolate and stir until smooth and glossy – leave for 15 minutes until cooled/thickened.
7. When the cakes have cooled, slice in half to create 6 layers.
8. Stack the cakes using the ganache as a filling.
9. When all 6 cakes are stacked, cover with more ganache and smooth to create a neat coating.
10. Melt the 50g of dark chocolate and pour on top and allow to drip down the edges.
11. Decorate the top of the cake using the remaining biscuits, truffles, sweets and fruit.