Moist cake coupled with crunchy almonds. A must-try for any budding baker.
Honeyed Almond Crunch Cake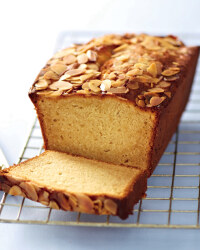 Recipe Information
Ingredients
175g Norpak Slightly Salted Butter, softened, plus extra for greasing
85g Specially Selected Speciality Orange Blossom Honey plus 4 tbsp for drizzling and extra to serve
85g The Pantry Caster Sugar
85g The Pantry Ground Almonds
200g The Pantry Plain Flour
1 tsp The Pantry Bicarbonate of Soda
1 tsp The Pantry Baking Powder
100ml Brooklea Natural Yogurt
2 Large Eggs, 1 separated, plus 1 extra Egg White
85g The Pantry Flaked Almonds
Method
Heat oven to 180°C/160°C fan/ 350°F/ Gas 4.
Grease a loaf tin and line with a strip of baking parchment that overhangs each end.
Put the butter, honey, caster sugar, ground almonds, flour, baking powder, bicarb and yogurt into a large mixing bowl.
Put the egg whites into another small bowl. Put the yolk and remaining whole egg in with all the other ingredients.
Whisk the whites until stiff, then put your electric beater into the other bowl of ingredients and beat until just smooth.
Stir in a third of the whites, then gently fold in the rest with a wooden spoon.
Tip the mix into the prepared tin, scatter over the flaked almonds and bake for 55 minutes on the middle-lower shelf of the oven until golden.
Remove the cake from the oven.
Quickly drizzle with two tablespoons honey and scatter with a small pinch of fine salt before putting back in the oven for five more minutes.
Remove from the oven, drizzle with two more tablespoons honey, then cool in the tin on a wire rack.
Carefully lift the cake from the tin, eat in slices, drizzled with a little extra honey if you like.