Creamy mash with a horseradish and mustard kick. Super-delicious with leg of lamb or roast beef.
Horseradish & Mustard Mash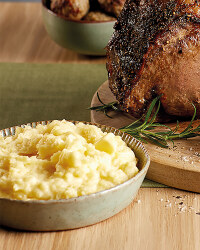 Recipe Information
Ingredients
1kg Maris Piper Potatoes
3 tsp Horseradish Sauce
2 tsp English Mustard
65g Salted Butter
65ml Milk
Sea Salt & Black Pepper
Method
Peel the potatoes and cut into medium sized chunks.
Boil them in salted water for 15 minutes until tender.
Drain well and return to the pan. Add the butter, milk, horseradish, black pepper and mustard.
Mash the potatoes in the pan over a low heat until they are smooth and creamy.