Delectably juicy chicken breasts, served on a bed of soft spaghetti with a tangy garlic and herb soft cheese.
Italian Chicken Bake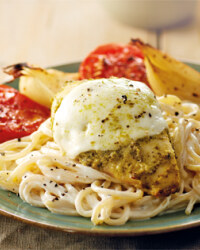 Recipe Information
Ingredients
2 x 300g packs Ready to Cook Pesto Chicken Breasts
300g Cucina Spaghetti
1 x 200g The Cheese Emporium Soft Cheese with Garlic and Herbs
2 x Onions
4 x Tomatoes
A little Specially Selected Olive Oil
Salt and Black Pepper
Method
Preheat the oven to 200˚C/400˚F/Gas Mark 6.
Peel the onions and cut into quarters.
Cut the tomatoes in half, put the onions and tomatoes on a large baking sheet, drizzle over some olive oil and sprinkle with salt and black pepper - put into the oven.
Meanwhile put some water onto boil for the spaghetti.
Cook the onions and tomatoes for 10 minutes.
Put the chicken breasts on a baking tray and put in the oven - cook for 30 minutes.
Meanwhile cook the spaghetti in the boiling water - as per instructions on the pack, when cooked, drain and put in a large bowl.
Add the soft cheese and with some serving spoons, toss the spaghetti until coated with the cheese.
Serve a chicken breast on a bed of the spaghetti with two onion quarters and two tomato halves.