This recipe mixes delicious fish with a tangy sauce for a flavoursome meal.
Japanese Hoisin Fish Burger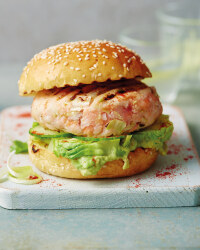 Recipe Information
Ingredients
1 x 240g pack Boneless Salmon Fillets
250g pack Cod Loins
35g Spring Onion
8g fresh peeled Ginger
80g Asia Hoisin and Garlic Sauce
1 Avocado
Juice of ½ Lime
20g Mayonnaise
Pinch of Chilli Powder
1 pack 4 Specially Selected Seeded Brioche Burger Buns
Little Gem Lettuce and peeled Cucumber to serve
Method
Skin the salmon fillets, then chop the salmon and cod into small chunks.
Grate the ginger and finely chop the spring onion.
Put the fish, spring onion, ginger and hoisin and garlic sauce into a food processor and pulse until smooth.
Divide into 4, then roll into balls and squash gently to make burger shapes.
Chill in the fridge for 40 minutes.
Cut the avocado in half, remove the stone, scoop out the flesh and chop.
Blend the flesh with the lime juice, mayo and chilli powder, then put in the fridge to cool.
Grill, barbecue or griddle the fish burgers for 5 minutes each side.
Serve on toasted buns on top of sliced lettuce leaves and cucumber, topped with the avocado spread.