Enjoy these light and fluffy Japanese Soufflé Pancakes, which will tower over your plate!
Japanese Soufflé Pancakes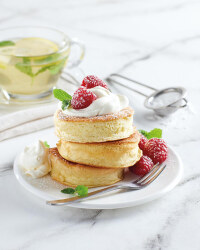 Recipe Information
Ingredients
2 x Eggs (separate yolks and whites)
1 ½ tbsp Whole Milk
½ tsp Vanilla Extract
30g Plain Flour
½ tsp Baking Powder
3 tbsp Caster Sugar
Vegetable Oil, to cook
Icing sugar
Whipped cream
Raspberries
Mint leaves
4 Crumpet rings
Method
Add the milk, egg yolks, vanilla and 1 tbsp of of caster sugar into a bowl. Beat with a large whisk until thick, smooth and creamy. Sift the flour and baking powder, then fold into the yolk mixture.
In a separate bowl, whisk the egg whites until they turn pale white. Slowly, add 2 tbsp. of caster sugar, whisking as you go. Continue to whisk until the egg whites are glossy and hold a stiff peak shape when you remove the whisk.
Put your frying pan, with the 4 crumpet rings, on the lowest heat possible. Lightly coat the pan and rings in a little oil and leave to heat up while you continue making your mixture.
Using a metal spoon, lightly fold the whisked egg whites into the yolk mixture, folding gently ensuring you keep a light, fluffy texture. Gently pile 3 tablespoons of mixture into each ring. Leave to cook for 5 to 6 minutes until the pancakes have risen and firmed enough to be able to carefully flip over in the ring. Cook for a further 3 to 4 minutes and then ease the pancakes out of their rings – run a sharp knife down the sides if you need to loosen.
Plate, dust with icing sugar and serve with whipped cream, strawberries and mint leaves.