A sensational main or side salad, packed with delicious greens and a to-die-for dressing made with peas, houmous, olive oil and lemon juice.
Jersey Royal Potato Emerald Salad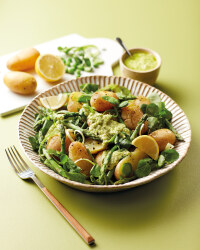 Recipe Information
Ingredients
500g Jersey Royal Potatoes
200g Asparagus
4 Spring Onions
1 bag Watercress
60g Garden Peas
80g Houmous
Lemon Juice
150ml Olive Oil
Sea Salt and Black Pepper
Method
To make the dressing blend the peas, houmous, olive oil and lemon juice then season with salt and pepper.
For the salad shred the spring onions.
Put the watercress on a large salad plate and sprinkle over the spring onions.
Boil Jersey Royals in salted water for 15 minutes.
Boil the asparagus in salted water for 5 minutes.
Drain both and toss over the watercress.
Drizzle over the dressing and serve.