Tangy, zesty and creamy, this classic Key Lime Pie recipe is perfect for parties.
Key Lime Pie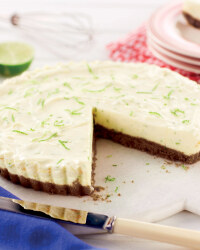 Recipe Information
Ingredients
1 x Can Condensed Milk
1 x Tub Double Cream
300g Ginger Biscuits
6 x Limes
60g Butter
Method
Blitz the biscuits into a fine crumb and mix well with the melted butter.
Push across the bottom of a spring form tin - tightly compress to form the base.
Finely zest all 6 limes - the zest should be very small and thin - if not, chop it up with a sharp knife for a better end result.
Microwave the 6 zested limes on full power for 1 minute (this helps extract the maximum amount of juice).
Cut the limes in half and juice all of them into a bowl with the zest - remove any pips.
In a separate bowl whip the cream until almost fully whipped then fold in the condensed milk.
Pour the zest and juice mix into the cream mix and mix in quickly.
Spoon the mix over the biscuit base and smooth the top.
Set in the fridge for 3 hours minimum before slicing.