Baked chorizo and king prawns on bread slices and drizzled with garlic paprika butter.
King Prawn and Chorizo Stack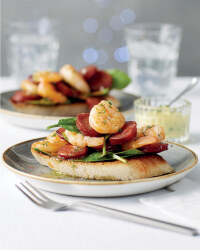 Recipe Information
Ingredients
180g pack frozen Specially Selected King Prawns
200g Specially Selected Chorizo Ring
4 slices Carlos Frozen Garlic Baguette Slices
30g Butter
½ tsp Paprika
1 small clove Garlic
20 Baby Spinach Leaves
Black Pepper
Method
Defrost the prawns.
Pre-heat the oven to 200°C/Gas Mark 6.
Slice the ends off the chorizo sausage and discard. Cut into thin slices.
Put the chorizo slices onto a baking tray along with the defrosted prawns.
Put the garlic bread slices on another baking tray.
Put them all in the oven and bake for 15 minutes.
Meanwhile, peel and mince the garlic and mix with the butter and paprika in a small saucepan, melting gently.
To assemble, divide the spinach on top of the bread slices, then divide the prawns and the chorizo slices on top. Drizzle with some of the garlic paprika butter, sprinkle over some black pepper and serve.