King prawns cooked in a white wine and crème fraiche sauce. Served with pasta strips.
King Prawn Pappardelle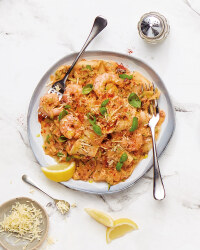 Recipe Information
Ingredients
180g pack Specially Selected Frozen King Prawns
8 x sheets Lasagne Pasta
1 x small Red Onion
1 x Courgette
1 x clove Garlic
1 x Lemon
150g tub Stir-in Sun-dried Tomato Sauce
60g Lighter Crème Fraîche
½ tsp Dried Oregano
½ tsp Chilli Powder
1 heaped tsp Paprika
60ml White Wine
30ml Olive Oil
Sea Salt
To Garnish
Black Pepper
Basil Leaves
Method
Defrost the prawns, then drain and pat dry.
Half fill a large roasting tin with boiling water and add 15ml olive oil. Soak the sheets of pasta for 10 minutes to soften. Remove them and cut each sheet into 3 strips lengthways. Put the pasta to one side. Don't overlap the strips, as they will stick together.
Peel and finely chop the red onion. Peel and mince the garlic. Grate the courgette. Cut the lemon in half. Juice one half and use the other half as a garnish.
In a large frying pan, sauté the onion and garlic gently in the olive oil for 4 minutes. Add the prawns and sauté for another 4 minutes. Add the white wine, chilli powder, paprika, oregano and the lemon juice and gently cook for 4 minutes. Add the stir-in sauce and the grated courgette, cooking for another 4 minutes. Add the crème fraîche and stir through.
Cook the pasta strips in some salted boiling water with a splash of olive oil for 5 to 6 minutes until just cooked, then drain carefully. Divide the pasta between 2 plates and spoon over the sauce. Garnish with some lemon, fresh basil and black pepper.