Juicy lamb steaks served with a creamy mushroom sauce and boiled potatoes.
Lamb Steaks with Garlic, Black Peppercorn & Mushroom Cream Sauce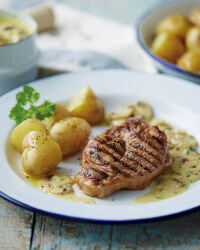 Recipe Information
Ingredients
2 x 300g British Lamb Leg Steaks
200g pack Button Mushrooms
3 organic cloves Garlic
30g Greenvale Salted Butter
1 Quixo Chicken Stock Cube
75ml Boiling Water
50ml Double Cream
½ tsp Bramwells English Mustard
1 tsp Stonemill Dried Parsley
2g Stonemill Black Peppercorns
5ml The Pantry Lemon Juice
600g Specially Selected Jersey Royal Potatoes
Method
Grill or barbecue the lamb steaks for 6/7 minutes each side.
Boil the potatoes in some salted water for about 6 minutes until tender.
Drain and keep warm.
For the sauce
Wipe the mushrooms and slice.
Peel the garlic cloves and chop finely.
Dissolve the stock cube in the boiling water.
Grind the black peppercorns.
Melt the butter in a large frying pan then add the sliced mushrooms and the chopped garlic.
Sauté, stirring for about a minute, then add the stock, cream, parsley, black peppercorns, lemon juice and mustard.
Stir together and heat through.
Serve with the lamb steaks and Jersey Royal potatoes.