Super tasty and ridiculously easy to make. This Leftover Cheese Sauce is perfect with Mac and Cheese.
Leftover Cheese Sauce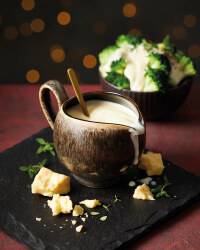 Recipe Information
Ingredients
160g Leftover Cheese
60g Butter
60g Plain Flour
700ml Milk
1 X heaped tsp English Mustard
Sea Salt and White Pepper
Method
Grate any hard cheeses and finely chop any of the cheeses that are soft.
Melt the butter in a large saucepan.
Add the flour and cook on a low light for a couple of minutes – stirring as you cook.
Gradually add the milk, stirring as you do, till you have a smooth sauce.
Add the cheeses and the mustard and cook on a low heat until they have melted.
Season with some salt and pepper and then use in your desired recipe.
Serving Suggestions
Great to use to make a macaroni pasta
Serve as a fondue
Use to coat cauliflower or broccoli and bake in the oven