Potato halves stuffed with chilli and topped with cheese, chilli flakes and spring onion.
Leftover Chilli Stuffed Potato Skins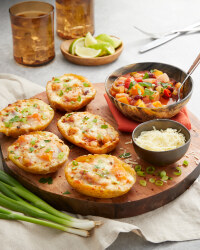 Recipe Information
Ingredients
350g leftover Vegan Chilli
4 x Baking Potatoes
100g Mature Cheddar
2 x Spring Onions
1 tsp Dried Chilli Flakes
Method
Pre-heat the oven to 220°C/200°C Fan/Gas Mark 7.
Wash the potatoes then prick with a fork and bake for 1 hour until cooked through. Finely slice the spring onions and grate the cheese.
Halve the potatoes and scoop out the middle – save this for another recipe, such as fish cakes or use as mashed potato.
Distribute the leftover chilli between the potato skins and top with the grated cheese, spring onions and chilli flakes. Bake for 10 to 15 minutes until the cheese has melted and is golden.