Did somebody say afternoon tea? This beautiful Lemon & Chia Seed Bundt Cake is waiting…
Lemon & Chia Seed Bundt Cake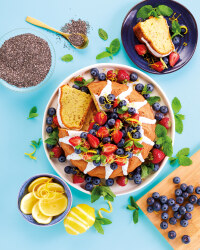 Recipe Information
Ingredients
For the cake:
225g Cake Margarine
300g Caster Sugar
6 Eggs
350g Self-Raising Flour
250g Plain Yogurt
Zest of 3 Lemons
2 tbsp Chia Seeds
For the icing:
100g Icing Sugar
Juice of ½ Lemon
1 tbsp Chia Seeds
To decorate:
Lemon
Blueberries
Fresh Mint Leaves
Strawberries
Method
Pre-heat the oven to 180°C/Fan 160°C/Gas Mark 4.
In the meantime, grease a Bundt tin with melted butter and dust with flour.
Whisk together the caster sugar and cake margarine until light and fluffy.
Stir in the rest of the cake ingredients and whisk until smooth.
Transfer the mixture to the Bundt tin and bake in the oven for 60-70 minutes, or until a skewer inserted into the sponge comes out clean.
Leave the cake to cool.
Whisk together the icing sugar and juice.
Spoon the icing over the cake, then sprinkle with chia seeds.
Top with the fruit and mint leaves and serve.