Classic lemon cupcakes decorated with soft lemon butter icing.
Lemon Drizzle Cupcakes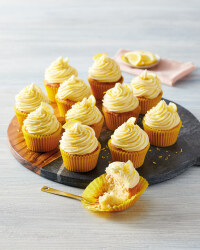 Recipe Information
Ingredients
150g Greenvale unsalted butter
150g The Pantry caster sugar
150g The Pantry self raising flour
3 x medium eggs
1 tsp baking powder
2 x lemons
225g Silver Spoon icing sugar
Find your ingredients online on Click & Collect or find your nearest store using our Store Finder.
Method
Preheat the oven to 170°C/325°F/Gas Mark 3.
Line a 12 hole muffin tin with paper cases.
Cream the butter with the caster sugar until light and fluffy.
Beat in the eggs one at a time.
Fold in the flour and baking powder.
Grate the rind from one lemon and add to the mix.
Divide the mixture between the muffin cases and bake for 10/15 minutes until risen, test they are done by sticking a cocktail stick into one of them - if it comes out clean they are ready.
Allow to cool in the tin.
Meanwhile make the icing, grate the rind from the other lemon, then juice the lemon, add these to the icing sugar and mix well, drizzle this over the cakes.
Decorate the cakes with slices of lemon from the zested lemon.