A refreshing snack ideal for eating outdoors in summer
Little Gem Lettuce Cups Filled with Potato & Bacon Salad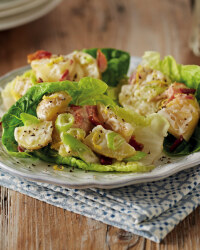 Recipe Information
Ingredients
2 x Little Gem Lettuce
750g Salad Potatoes
6 x Spring Onions
100g Bramwells Light Mayonnaise
4 x rashers Smoked Streaky Bacon
1 x handful Radishes'
1 x Lemon
Salt and pepper
Method
Boil the potatoes in a large pan of salted boiling water until cooked and tender.
Cool under running cold water for 5-10 minutes.
Cook the streaky bacon until crisp, and dry on some kitchen paper.
Finely zest the lemon and mix in a bowl with the mayonnaise.
Chop the spring onions and bacon and add to the mayonnaise; mix with salt and pepper.
Cut the potatoes in halves or quarters depending on the size.
Toss the potatoes in the mayonnaise and add a squeeze of lemon juice to taste.
Cut the bottoms off the little gems and remove any outer leaves that are damaged.
Separate the leaves into little cups and wash them.
Once dry; spoon the potato and bacon salad into the cups.
Great with burgers, sausages, or fish.