Mashed potato with a twist. Potato patties loaded with crispy bacon and melted cheese.
Loaded Mashed Potato Cakes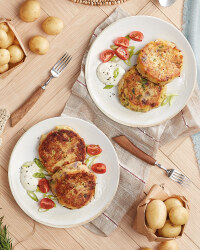 Recipe Information
Ingredients
600g Cold Mashed Potato
150g Cheddar Cheese, grated
50g Plain Flour
6 Strips Streaky Bacon
1 Onion
2 Garlic Cloves
8g Fresh Basil
8g Fresh Parsley
2 Eggs
50g Butter
30ml Olive Oil
Sea Salt and Black Pepper
A little Sunflower Oil
Method
In a large frying pan, fry the bacon in a little oil until crispy. Leave to cool on some kitchen paper, then crumble into small bits.
Peel and chop the onion finely. Peel and mince the garlic.
Using the same pan and any leftover oil, sauté the onion and garlic for 5 minutes on a low light.
In a large bowl, mix the mashed potato, bacon, cheese, onion and garlic together.
Chop the parsley and basil, add to the mix and season with salt and pepper.
Whisk the eggs and add to the mix. Sprinkle in the flour and mix well.
Divide the mixture into 8 portions, roll into balls and flatten into a patty shape with the back of your hand.
Fry the cakes in the butter and olive oil for 3 minutes each side, until crisp and golden.
Serve immediately, topped with sliced spring onions, sour cream or ketchup.