All the good stuff – garlic, onion, thyme, stock, parsley and lemon – in one delicious one-pot Chicken and Mushroom Risotto.
Long Grain Rice, Chicken and Mushroom Risotto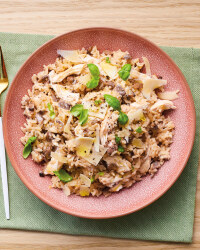 Recipe Information
Ingredients
400g Long Grain Rice
200g leftover Chicken, chopped
300g Chestnut Mushrooms
1 x Large Onion
2 x Cloves Garlic
50ml Olive Oil
1 tsp Dried Thyme
2 x Chicken Stock Pots
1250ml boiling Water
1 x Lemon, juiced
8g Fresh Parsley, chopped
40g Specially Selected Parmigiano Cheese, grated
Black Pepper
Basil Leaves
Method
Peel and finely chop the onion. Peel and mince the garlic. Wipe and finely chop the mushrooms.
In a large saucepan, sauté the onion and garlic in the olive oil for a few minutes. Add the chopped mushrooms and cook for a couple more minutes on a low heat.
Dissolve the 2 stock pots in the boiling water, add the lemon juice and the thyme, then stir well. Add the rice to the pan and stir through the onions.
Gradually add the chicken stock, stirring as you cook to allow the rice to absorb the liquid – it will take about 20/25 minutes to cook.
Then add the chopped, cooked chicken, parsley and plenty of ground black pepper. Cook gently for a few minutes to heat the chicken through.
Serve with the Parmesan cheese and some basil leaves.