An exotic twist on a family favourite, this Mexican burger is packed with flavour.
Mexican Spicy Beef Burger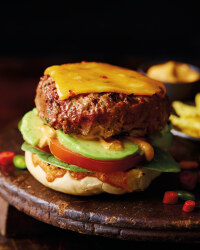 Recipe Information
Ingredients
500g lean Rump Steak
150g Red Kidney Beans, drained
4g fresh Chives
2 tsp Chilli Powder
2 tsp Paprika
4 slices Spicy Cheddar
1 pack 4 Cheesy Topped Rolls
Smoky Chipotle Mayonnaise
Spinach Leaves, Avocado, Vine Tomatoes, Tortilla Chips and Tomato Salsa to serve
Method
Chop the steak into small chunks.
Put into a food processor and pulse until almost smooth.
Chop the chives finely, then put into the food processor along with the steak mixture and red kidney beans.
Pulse for another minute, so the beans are still a bit chunky.
Divide the mixture into four, roll into balls and then squash them to form burgers.
Chill in the fridge for 40 minutes.
Grill, barbecue or griddle for 7-8 minutes each side, then top with a slice of cheese.
Serve on toasted buns with the chipotle mayo, slices of avocado, tomato and spinach leaves alongside tortilla chips and salsa.