Classic mini party treats with a fruity twist.
Chef's Tip
If you like, add a teaspoon ground mixed spice or ground cinnamon to the flour and sugar mixture.
Mini Apple and Banana Muffins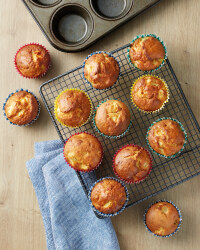 Recipe Information
Ingredients
150g plain flour
1 tsp baking powder
50g caster sugar
100ml semi-skimmed milk
1 egg
40g low-fat spread, melted
1 medium apple peeled, cored and chopped
1 banana mashed
1 tsp vanilla extract (optional)
Find your ingredients online on Click & Collect or find your nearest store using our Store Finder.
Method
Preheat the oven to 200°C, fan 180°C, Gas Mark 6.
Put 12 paper cases into a bun tray.
Sift the flour and baking powder into a mixing bowl, then stir in the sugar.
Put the milk, egg, vanilla extract and melted low-fat spread in a jug and beat together.
Add to the dry ingredients with the apple and mashed banana.
Stir until just combined. Do not overmix.
Spoon the mixture into the paper cases and bake for 20-25 minutes, until the muffins are risen and golden.
Carefully take the muffins in their paper cases out of the bun tray.
Cool on a wire rack.