This exciting and tasty dinner choice is sure to be a big hit with the kids this Easter!
Mini Pizza Faces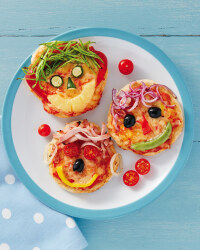 Recipe Information
Ingredients
450g The Pantry Strong White Bread Flour, plus more to dust
7g Sachet The Pantry Yeast
2 tbsp Solesta Extra-Virgin Olive Oil
350ml Warm Water
100ml Cucina Passata
Garlic Clove, crushed
5 tbsp Grated Cheddar Cheese
Toppings of choice including cherry tomatoes, cooked ham, pineapple rings, sliced peppers, black olives, slices of courgette
Method
Put the flour, yeast and 2 tsp salt into a large bowl and mix. Mix the oil and water in a jug, then tip into the bowl. Use a wooden spoon to work the liquid into the flour to form a sticky dough. Cover and leave for 15 minutes.
Turn the dough onto a well-floured surface, flour your hands, then knead it for 2 minutes. Return the dough to the bowl, cover with oiled cling film, then let it rise in a warm place (or in the fridge overnight) until doubled in size.
When ready to cook, heat oven to 240°C/220°C fan/gas 9. Dust 2 baking sheets with flour. Split the dough into 8, then roll thinly into rough circles. Lift onto the floured sheets. Mix together the passata and garlic and spread a thin layer of the sauce over each circle. Top each with grated cheese.
Using a selection of toppings create a face on each pizza - olives, halved cherry tomatoes, sliced courgette for eyes, slices of pepper, halved pineapple rings for a mouth and shredded cooked ham for hair.
Bake in a pre heated oven for around 12 minutes.