These tender lamb burgers are perfect for both lunches and dinners.
Minted Lamb Burgers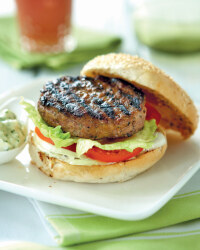 Recipe Information
Ingredients
500g Ashfield Farm Lamb Leg Steaks
4 Village Bakery Seeded Burger Buns
70g Bramwells Mayonnaise
1 tsp Bramwells Mint Sauce
Half an Iceberg Lettuce
4 Tomatoes
1 Onion
Find your ingredients online on Click & Collect or find your nearest store using our Store Finder.
Method
Chop the lamb into small pieces and in a food processor whizz until the lamb is minced then divide into 4 patties.
Cook for 10 minutes on each side on a BBQ or under a grill.
Mix the mayonnaise with the mint sauce.
Split the buns, divide the mayo between them, slice the onion and tomato, and layer these on the buns along with the lettuce.
Top with a lamb burger.