Make rice more exciting by adding flavorsome mushrooms and onions
Mushroom and Onion Rice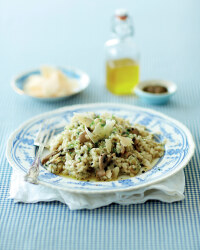 Recipe Information
Ingredients
200g Pudding rice
60g Salted Butter
2 x Medium Onions - peeled and chopped
350g Closed Cup Mushrooms - halved, then sliced
2 x Chicken or Vegetable Stock Cubes
600ml boiling water
300ml Dry White Wine
50g Specially Selected Parmigiano Reggiano
Black Pepper
Chopped Parsley or Basil
Method
Dissolve the stock cubes in the boiling water and then add the wine.
In a large saucepan sauté the onion in the butter for a minute, add the rice and the chopped mushrooms and cook for a few minutes, slowly add the hot stock stirring as you do over a period of about 20 minutes and season with black pepper.
Serve sprinkled with the parsley or basil and the Parmigiano. Great served with grilled Casa Barelli Italian Pancetta strips.