Mustard Parsnip and Potato Gratin
Mustard Parsnip and Potato Gratin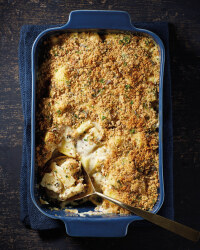 Recipe Information
Ingredients
400g Potatoes (Maris Piper or other white potatoes), peeled
400g Parsnips, trimmed and peeled
25g Greenvale Salted Butter
25g The Pantry Plain Flour
400ml Milk
200ml Cowbelle Single Cream
4 tsp Trois Lys Wholegrain Mustard
1 slice Specially Selected Multigrain Bread, made into breadcrumbs
1 tbsp Sage, freshly chopped
1 tbsp Parsley, freshly chopped
2 tbsp Specially Selected Parmigiano Reggiano, finely grated
Method
Pre-heat oven to 200oC/180oC Fan/Gas Mark 6.
Cut the potatoes and parsnips into bite-sized pieces. Bring a large pan of lightly salted water to the boil and add the potatoes. Cook for 3-4 minutes then add the parsnips. Cook for a further 3-4 minutes then drain thoroughly.
In a small saucepan melt the butter, stir in the flour and cook over a low heat for a couple of minutes. Remove from the heat and gradually stir in the milk and cream. Return to the heat and bring to the boil stirring continuously to prevent lumps. Cook for a couple of minutes then stir in the mustard and season to taste.
Place the drained potatoes and parsnips in a shallow ovenproof dish and pour over the mustard sauce.
Mix together the breadcrumbs, herbs and Parmesan and sprinkle over the dish.
Bake for 30-35 minutes until the vegetables are tender and the crumbs are golden brown.