Light, sweet and irresistibly fruity. We're sure this tart will be a hit with your dinner guests.
Nectarine or Peach & Plum Tart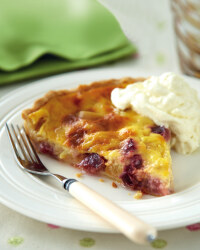 Recipe Information
Ingredients
1 tbsp Creamy Butter Unsalted
1 x 375g pack Ready Rolled Shortcrust Pastry
2 x Nectarines or Peaches
200g Plums
2 x Medium Eggs
1 x 500g pack Custard
184ml Fresh Double Cream
100g Ground Almonds
Method
Pre-heat the oven to 190°C/375°F/Gas Mark 5.
Lightly grease a 9inch/23cm tart or flan tin with the butter and then line with the shortcrust pastry.
Line the pastry with tin foil and bake in the oven for 5 minutes.
Remove from the oven and remove the tin foil.
Chop the nectarines or peaches and plums into small pieces and discard the stones and separate the egg yolks from the whites.
Discard the egg whites.
In a large bowl mix the chopped fruit with the custard, egg yolks and ground almonds.
Pour into the pastry case and bake in the oven for 30 minutes until the top is golden.
Remove from the oven and leave to cool for at least 45 minutes to allow the tart to set before cutting.
Whip the double cream and serve with slices of the tart.