Vegetarian snack bar recipe made with almond butter, seeds and dark chocolate.
No Bake Seed and Nut Bars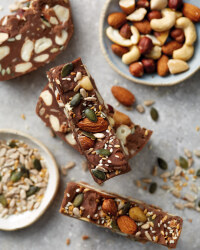 Recipe Information
Ingredients
200g Dark Chocolate
170g Almond Butter
100ml Maple Syrup
50g Coconut Oil
2 x 175g Fruit & Nut Mix
Shallow Oblong Tray (approx. 22 x 8cm)
Method
Line the tray with some non-stick baking paper.
Break up the chocolate and melt in a bowl over a pan of simmering water, making sure the bottom of the bowl doesn't touch the water.
Remove the bowl from the pan and add all the other ingredients, mixing well.
Tip into the tray and use the back of a spoon to compress.
Refrigerate for a couple of hours, then slice into bars.