Easy, moist and delicious. You'll soon be hooked on this yummy, sticky, orange dessert.
Orange & Rapeseed Oil Cake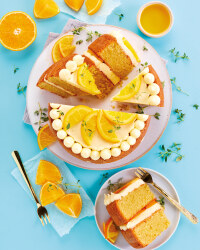 Recipe Information
Ingredients
For the sponge:
Zest of 2 Oranges
Zest of 2 Lemons
200ml Rapeseed Oil
350g Caster Sugar
8 Eggs
350g Ground Almonds
3 tsp Baking Powder
For the filling:
500g Icing Sugar
180g Unsalted Butter
1 tsp Vanilla Extract
Splash of Milk
For the candied oranges:
1 Orange, sliced thinly
1 Orange, sliced into segments
100g Caster Sugar
70ml Water
To decorate:
Fresh Sprigs of Thyme
Method
Pre-heat the oven to 160°C/Fan 140°C/Gas Mark 3 and grease and line 2 18cm round tins.
In a large bowl, whisk together the cake ingredients until smooth.
Divide the batter between the cake tins and bake in the oven for 50-65.
Remove from tins and allow to cool.
In the meantime, whisk together the icing sugar, butter and vanilla extract for the filling, adding a little milk if the mixture is too stiff.
For the candied oranges, heat the sugar and water in a pan until the sugar has dissolved.
Add the orange slices and segments and cook for 15 minutes, turning half-way through.
Leave to cool.
Assemble the cake by filling with the candied orange slices and half of the frosting.
Top with the rest of the frosting, the candied orange segments and a few sprigs of thyme.
Store in an airtight container and enjoy within 3 days.