There's no need to add sugar to this easy pudding – it's sweet enough with the sultanas.
Orange and Sultana Milk Pudding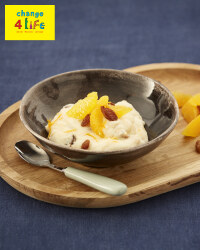 Recipe Information
Ingredients
2 oranges
600ml semi-skimmed milk
80g ground rice
1/4 tsp ground mixed spice
60g sultanas or raisins
Method
Finely grate 1 tsp of zest from 1 of the oranges, then squeeze the juice from the orange.
Slice the second orange into segments, removing all the peel and pith.
Put the milk, ground rice, orange zest and mixed spice into a non-stick saucepan and bring to the boil, stirring constantly with a wooden spoon until thickened.
Add the orange juice and most of the sultanas or raisins, then cook over a very low heat for 1-2 minutes, stirring all the time.
Share the pudding between 4 bowls and top with the orange segments and remaining sultanas.
Serve immediately.
Recipe provided by Change4Life