This classic rustic French recipe is an absolute must-try.
Parsnip & Pancetta Tartiflette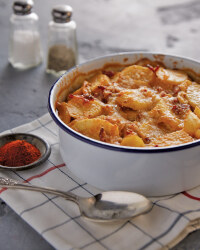 Recipe Information
Ingredients
1 kilo Parsnips
200g Cucina Italian smoked pancetta pieces
25ml Specially Selected olive oil
40g Butter
1 x large onion
2/3 x cloves garlic
200ml Reduced Fat crème fraiche
120ml White wine
1 x 200g Roi De Trefle brie
1 x teaspoon Stonemills paprika
15g Grated Parmigiano cheese
Sea salt and black pepper
Method
Preheat the oven to 200c/400f/gas 6.
Peel the parsnips, and slice on the diagonal into 5mm thick slices.
Put into a pan of salted boiling water – bring back to the boil and cook for 3 to 4 mins – then drain.
Peel, halve and thinly slice the onion.
Meanwhile heat the olive oil and butter in a wok or large frying pan.
Add the pancetta and onion – fry for about 6 mins till just golden.
Chop the brie into small chunks.
Add the white wine, crème fraiche, brie and paprika to the pancetta.
Cook on a low light till the cheese has melted, season with some black pepper.
Add the parsnips and mix well.
Transfer to a baking dish.
Sprinkle over the Parmigiano Cook in the oven for about 30/35 mins till bubbling and golden.