This classic dish is packed with rustic flavour straight from Napoli.
Pasta Neapolitan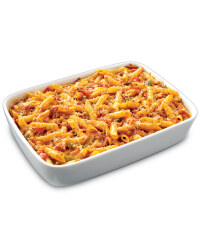 Recipe Information
Ingredients
200g Cucina penne pasta
500g jar Cucina creamy tomato pasta bake sauce
100g Pancetta
3 Mixed Peppers
1 Courgette, grated
100g Grana Padano Cheese, grated
A little Solesta olive oil
Salt and freshly ground black pepper
Find your ingredients online on Click & Collect or find your nearest store using our Store Finder.
Method
Preheat the oven to 180oC / Gas Mark 4.
Put the dry pasta into an ovenproof dish.
Pour the sauce into a mixing bowl, fill the empty jar with water up to the label and pour this into the bowl, mix well.
Pour this over the pasta, stir well to ensure the pasta is coated and cook uncovered for 20 mins.
Chop the pancetta into small pieces.
Cut the peppers into strips and add the seasoning.
Add the grated courgette.
In a large frying pan sauté the pancetta and peppers in a little olive oil until browned.
Remove the pasta from the oven, stir in the pancetta and peppers, and sprinkle over the cheese.
Return the dish to the oven and bake for a further 20 mins.