A Brazilian street food snack similar to an empanada.
Pastel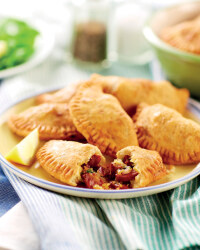 Recipe Information
Ingredients
240g Plain flour
1 Egg
1 tbsp vegetable oil
1 tsp Salt
75ml Water
80g Chorizo slices
100g Grated mozzarella
1 Red onion
1 handful Parsley, finely chopped
Find your ingredients online on Click & Collect or find your nearest store using our Store Finder.
Method
In a large bowl mix the flour, egg, vegetable oil, salt and water to form a dough.
Mix well - the dough should be soft but not sticky - add more flour if it is sticky or more water if it is too dry.
Finely chop the red onion and fry in a pan with the chorizo until the onion is soft. When cool add the mozzarella cheese and the parsley.
Roll the dough out until half a centimetre thick. Cut out discs of 10cm diameter; in each circle place a tablespoon of filling into the middle and wet the edges fold the dough over to make a half moon and seal the edges using a fork.
Repeat until all the dough and filling is used up.
Bake in a hot oven at 220oC/425oF/Gas Mark 7 for 20 minutes Or Deep fry at 180oC for 2-3 minutes.