Sweet strawberry, blackberry and raspberry filling topped with a porridge oat crumble.
Patsy's Berry Crumble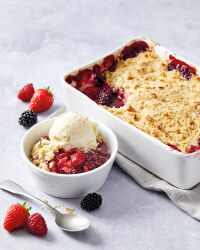 Recipe Information
Ingredients
Oat Crumble Topping
150g Plain Flour
90g Scottish Unsalted Butter
80g Caster Sugar
60g Scottish Porridge Oats
Mixed Berry Filling
400g Scottish Strawberries, washed and hulled
200g Scottish Blackberries, washed
200g Scottish Raspberries, washed
50g Caster Sugar
1 tbsp Cornflour
Method
Pre-heat the oven to 180°C Fan/Gas Mark 6.
Rub the butter into the flour, caster sugar and oats until the mixture looks like breadcrumbs.
Place all the ingredients for the filling into a mixing bowl and stir until the cornflour and sugar coat the fruit.
Tip the filling into an ovenproof dish and add the crumble mixture evenly over the fruit.
Bake for 35-45 minutes until golden and bubbling.
Serve hot with custard, cream or ice cream.