Homemade pea pesto served with traditional spaghetti and topped with parmesan cheese.
Pea Spaghetti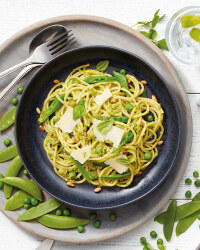 Recipe Information
Ingredients
400g Spaghetti
160g Mange Tout
160g Sugarsnap Peas
100g Defrosted Frozen/Chilled, Freshly Cooked Peas
2 Garlic Cloves, peeled and minced
10g Fresh Basil, chopped
25g Pine Nuts
Juice of 1 Lemon
100ml Olive Oil
25g Parmesan Cheese, finely grated
Sea Salt and Black Pepper
Extra Parmesan Cheese and Olive Oil to serve
Method
Add the defrosted/chilled peas, garlic, pine nuts, chopped basil, parmesan cheese, lemon juice and olive oil to a food processor. Season with black pepper and a little salt, blitz to a paste and keep to one side.
Cook the spaghetti as instructed on the packet.
In the meantime, finely slice the sugar snap peas and mange tout. Cook in some boiling, salted water for 5 minutes and drain.
Mix the drained spaghetti with the pea pesto and the cooked mange tout and sugar snap peas.
Divide between 4 plates, drizzle with a little olive oil, sprinkle over some more parmesan cheese and serve immedately.