Grilled peaches cooked with blackberries, honey and lemon, topped with homemade crumble.
Peach and Blackberry Crumble with Thyme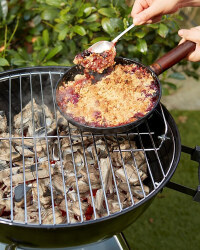 Recipe Information
Ingredients
For the crumble:
50g Plain Flour
50g Jumbo Oats
120g Demerara Sugar
50g Almond Flour
50g Desiccated Coconut
100g Unsalted Butter, softened
¼ Tsp Salt
50g Sunflower Seeds
For the filling:
6 Peaches, peeled and pitted, and cut into 6 wedges
1 Punnett (75g) Blackberries, halved
3 Thyme Sprigs
2 or 3 tbsp (40-60g) Honey, to taste
1 Tsp Unsalted Butter, cubed
1 Lemon, juiced and zested
Method
Heat up the grill.
For the crumble, in a large bowl, mix together with a spoon or rub together with your fingertips the flour, oats, demerara sugar, almond flour, coconut, butter, salt and sunflower seeds. Mix until it resembles a crumble texture, and then spread out on a sheet tray lined with parchment paper.
Place in the fridge.
Brush the peaches lightly with olive oil. Place the peaches on the grill and cook both sides about 1-2 minutes until marked. Remove from heat and place into a deep 10"cast iron pan.
Add the blackberries, thyme, honey, butter, lemon juice, zest, and gently mix together to coat.
Place the pan on the grill over indirect heat and cook gently mixing occasionally until the butter is melted, about 2 minutes.
Next, scatter the crumble on top of the fruit, place over indirect heat and close the grill, bake about 30-40 minutes until the crumble is browned and cooked through.
Serve with a scoop of vanilla ice cream, and garnish with fresh blackberries and thyme.