This fruity and refreshing salad is perfect for a light lunch.
Pear, Celery & Rocket Salad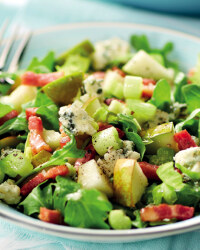 Recipe Information
Ingredients
6 Conference Pears
6 Celery Stalks
70g bag Rocket Leaves
150g pack Danish Blue Cheese
200g pack Casa Barelli Italian Style Pancetta Cubes
30ml The Pantry Lemon Juice
70ml Solesta Olive Oil – plus a little extra for frying
Black Pepper
Method
Wash and core the pears – chop into small chunks and put into a large bowl.
Whisk the lemon juice and the olive oil together, season with some black pepper then pour over the pears.
Wash the celery and chop into small chunks – add to the pears.
Sprinkle over the rocket leaves.
Crumble the cheese and add to the salad – gently toss the salad.
Put the pancetta into a large frying pan or wok – sauté in a little oil until crisp then add to the salad and serve.