A fruity rum punch. Shaken not stirred. Delish!
Planter's Punch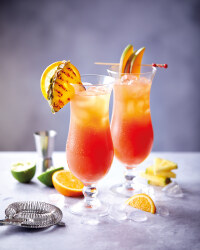 Recipe Information
Ingredients
80ml Spiced Rum
Juice of 1 Lime
80ml Cranberry Juice
80ml Pineapple Juice
40ml Orange Juice
Ice Cubes
Fresh Pineapple, Mango, Orange to decorate
Method
Put all the ingredients into a cocktail shaker with some ice cubes and shake well.
Strain into 2 chilled glasses filled with ice cubes.
Decorate with fresh fruits and serve.