Plum and Apple Chutney with oriental spices
Plum and Apple Chutney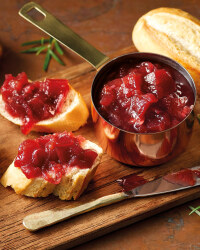 Recipe Information
Ingredients
600g Plums
4 x Granny Smith Apples
1 x large Brown Onion
250g Light Brown Soft Sugar
4 x large Cloves Garlic
15g fresh Ginger, peeled
250ml Cider Vinegar
1 x flat tsp Ground Cinnamon
1 x heaped tsp Ground Coriander
Salt and Black Pepper
4 x sterilised jam jars or Kilner-type jars
Method
Peel and thinly slice the onion and garlic. Finely chop the ginger. Peel the apples and cut into small chunks.
Put all the above into a large pan, along with the vinegar, sugar, cinnamon and the coriander. Slowly bring to the boil, stirring as you cook.
Chop the plums into quarters, remove the stones and chop the flesh into chunks. Add to the pan, then cover and simmer for 10 minutes.
Remove the lid and simmer for 20 minutes, stirring as you cook, until the chutney is starting to thicken.
Take off the heat and allow to cool a little, then spoon into the jars and allow to cool completely. Seal and store for 2 weeks to allow the chutney's flavours to develop.
Season with salt and pepper.