Tangy, sweet and astonishingly tasty dessert option.
Poached Chilli Pineapple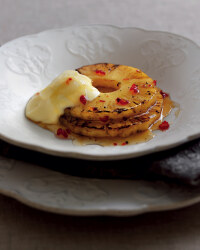 Recipe Information
Ingredients
1 medium fresh pineapple, skinned and sliced in 1cm slices
200ml cold water
250g granulated sugar
1 tsp finely chopped chilli
2 tsp salted butter
A pinch of coarse ground black pepper
Aldi Vanilla Fromage Frais
Method
Place the slices of pineapple onto a chopping board.
Then, using a small pastry cutter or knife, remove the tough centre core of the slice.
Place the water, chilli and sugar in a small saucepan and bring to the boil, cook for 1 minute.
Remove from the stove and leave to infuse and cool.
Place a large non-stick frying pan on the stove and melt the butter to the point where it starts foaming and is about to turn light brown.
Dust the pineapple with a little black pepper.
Pop the seasoned pineapple slices into the pan and brown them on both sides, this should only take a few minutes.
Once the pineapples are slightly brown add the chilli syrup and bring to the boil.
The butter will slightly thicken the syrup.
Cook for 1 minute to warm through.
Then carefully spoon onto warm plates or bowls.
Add a little syrup and top with a large spoon of Aldi Vanilla Fromage Frais.