Dine out at home with this gourmet fish dish.
Poached Sea Bream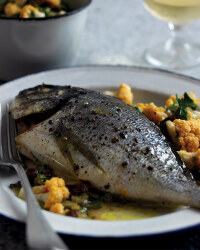 Recipe Information
Ingredients
8 tbsp extra virgin olive oil
2 onions, peeled and finely chopped
1 tsp paprika
1 small cauliflower, broken into small florets
1 vegetable stock cube
2 large glasses (200mls) Aldi Collezione Italiana white wine
Salt and coarse ground black pepper
75g raisins
2 pots of fresh flat-leaf parsley, roughly chopped
4 whole sea bream (defrosted)
1 glass of water
Method
Pre-heat the oven to 220°C, gas mark 7.
Heat half the olive oil in a large saucepan, and then add the onions and paprika.
Cook over a gentle heat until slightly softened with a little colour.
Add the cauliflower florets, coat well in the onions, oil and paprika.
Add the stock cube, wine, pepper, touch of salt and the raisins.
Mix really well.
Bring to the boil, turn down the heat to a simmer and cover.
Cook for about 10 minutes, until the cauliflower is soft, but not overcooked.
Once cooked, add the parsley, re-check the seasoning and adjust if needed, then keep warm.
Meanwhile, spread the other half of the oil over a baking dish or tray and place on the four fish.
Add the water, season well with salt and pepper.
Cover with foil, pop into the oven, cook for 12-15 minutes until just cooked – don't overcook.
Once cooked, place the fish on a warm plate, spoon over some of the cooking juices and serve with the warm cauliflower salad.
Enjoy with a glass of the chilled white wine, perfect.