Pork & Spinach Gnocchi with Peppers, Tomato & Chilli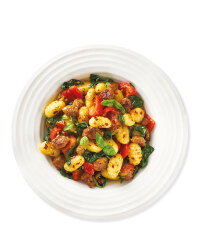 Recipe Information
Ingredients
1 x 400g Pack Specially Selected British Pork Sausages
1 x Red Pepper
1 x Beef Tomato
1 x 250g Pack Gnocchi
150g Baby Spinach
1 x tsp Crushed Chillies
1 x tsp Specially Selected British Rapeseed Oil
5g Fresh Basil
Salt
Black Pepper
Method
Cut along each sausage and break up the meat into a pan.
Cut the pepper in half, remove any pith or seeds and chop into chunks.
Cut the tomato into 8 pieces.
In a large frying pan or wok heat a little oil.
Add the sausage pieces and sauté for a couple of minutes.
Add the chopped red pepper and cook for another 5 minutes – stirring occasionally.
Then add the tomato chunks and cook for another 4 minutes.
Add the spinach and cook until wilted – sprinkle over the crushed chillies and season with some black pepper.
Cook the gnocchi in some boiling salted water as instructions on the pack.
Serve the drained gnocchi with the sausage and toss together, then garnish with basil.