Succulent pork with a sweet and tangy BBQ sauce.
Pork Belly with BBQ Sauce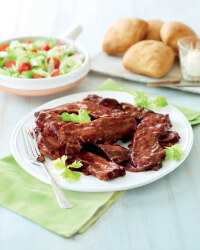 Recipe Information
Ingredients
800g Marinated Pork Belly Slices
200ml Taurus Apple Cider
50ml Asia Specialities Dark Soy Sauce
30ml The Pantry Lemon Juice
35g Demerara Sugar
15g Bramwells English Mustard
5 Cloves Garlic, peeled
55g Cucina Tomato Puree
2g Stonemill Ground Ginger
Black Pepper
Lettuce
250g Cherry Tomatoes
Find your ingredients online on Click & Collect or find your nearest store using our Store Finder.
Method
Pre-heat the oven to 200C°/400°F/Gas Mark 6.
Put the pork belly slices in a large roasting tin, season with some black pepper cook for 30 minutes.
Meanwhile finely chop the garlic and put into a saucepan with the cider, mustard, ginger, lemon juice, tomato puree, brown sugar and soy sauce slowly bring to the boil, stirring occasionally.
Pour this over the pork and continue to cook for another 30 minutes.
Meanwhile, halve the tomatoes and shred the lettuce, toss together and serve alongside the pork with some crusty Sunnyhills baked bread.