Roast loin medallions stuffed with a delicious poached pear and blue cheese filling.
Pork Loin Stuffed with Poached Pears and Stilton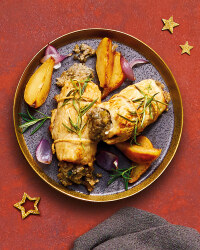 Recipe Information
Ingredients
400g pack Pork Loin Medallions
1 Conference Pear, finely chopped
80g Blue Stilton
1 medium Red Onion, finely chopped
4 Sprigs Fresh Rosemary
20g Butter
1 Garlic Clove, finely chopped
200ml White Wine
1 Chicken Stockpot
Juice of ½ Lemon
150ml Double Cream
100ml Water
Black Pepper
30ml Rapeseed Oil
Method
Melt the butter in a frying pan and sauté the onion, garlic and pear on a low light for a few minutes.
Add 50ml white wine and cook on a low light until the wine has evaporated.
Crumble over the blue cheese.
Place the pork medallions on a chopping board, cover with some non-stick parchment and batter with a rolling pin until they are flatter.
Add some of the mixture onto the middle of each medallion, roll up, top with a sprig of rosemary and tie each up using some string and another sprig of rosemary.
Put into the fridge to rest for 15 minutes.
Pre-heat the oven to 200°C/Gas Mark 6.
Heat the oil in a large frying pan and seal the bottom and sides of the pork olives.
Transfer to a roasting dish and cook in the oven for 20 minutes.
Once cooked, cover and allow to rest while you make the sauce.
Using the same frying pan, add any juices from the pork, the remaining wine, stock pot, water, lemon juice and cream.
Season with some black pepper and slowly bring to the boil.
Serve alongside the pork olives.