Try some tang and treat your family to a Peri-Peri inspired dinner.
Portuguese Peri-Peri Chicken Burger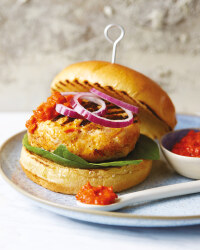 Recipe Information
Ingredients
500g Chicken Breasts
1 or 2 tsp Peri-Peri Powder, depending on how hot you want your burgers
3 Mini Peppers
1pack 4 Brioche Specially Selected Burger Buns
1 x 200g pack The Deli Red Pepper Dip
Baby Spinach Leaves and sliced Red Onion
Method
Chop the chicken breasts into small chunks.
Cut open the peppers lengthways, discard any seeds and chop.
Put the chicken breast, peppers and Peri-Peri powder into a food processor and pulse until you have a smooth-ish paste.
Divide the mixture into 4, roll into balls then squash down to make round patties.
Put into the fridge to chill and settle for 30 minutes, then grill, barbecue or griddle for 4 minutes each side.
Toast the burger buns, then assemble with the spinach leaves, sliced red onion, pepper dip and top with the burger.