A one-pot family dinner for the Easter weekend.
Pot Roast Beef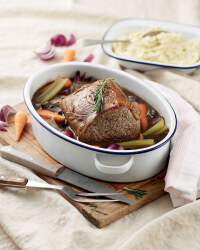 Recipe Information
Ingredients
1 x 1.3kg Joint of Beef
3 x Celery Sticks
2 x Red Onions
150g Chantenay Carrots
2 x Beef Stock Cubes
500ml Boiling Water
300ml Red Wine
2 x Sprigs of Rosemary
Sea Salt and Black Pepper
Rapeseed Oil
1 x Deep Casserole Dish with Lid
Method
Preheat the oven to 350f/180c/gas 4.
Heat the oil in a large frying pan and brown the meat on all sides.
Wipe the celery and cut into half.
Wipe the carrots and halve.
Peel the red onions and cut into 6.
Peel the garlic.
Put the prepared vegetables in the bottom of the casserole and put the browned joint on top.
Dissolve the stock cubes in the boiling water, then add the red wine. Season the stock with some sea salt and black pepper. Pour the stock over the beef, add the rosemary sprigs and put the lid on the casserole dish.
Roast in the oven for 3 hours, turning the meat once. When finished remove the joint from the casserole and keep warm.
To make the gravy liquidise the stock and vegetables then push through a sieve. Reheat the gravy in a pan and serve alongside the beef. If you prefer a thicker gravy – thicken the sauce with some gravy granules.