Succulent chicken drumsticks with a tasty seasoning.
Pot Roast Chicken Drumsticks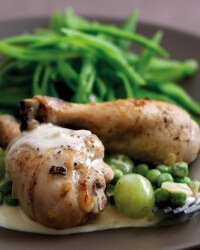 Recipe Information
Ingredients
8 chicken drumsticks, skin on
3 tbsp olive oil
1 small onion peeled and chopped
150ml water
150ml dry white wine
1 chicken stock cube
100g frozen peas
Salt and black coarse pepper
12–14 seedless white grapes
125ml double cream
Method
Pre-heat the oven to 200°C, gas mark 6.
Heat the oil in a saucepan add the drumsticks and brown well.
Season with salt and pepper.
When browned remove the chicken from the pan and add the onion and cook for a couple of minutes to brown slightly.
Place the drumsticks back in the pan, add the water, wine and stock cube then bring to the boil and cover with a tight fitting lid.
Place the pan in the pre-heated oven for 15–20 minutes.
To test if cooked, carefully insert a knife into the thickest part of the meat and if there is no trace of blood then they are cooked.
Carefully lift out the drumsticks and keep them warm.
Add the frozen peas, then boil the stock for a minute or two to thicken slightly.
Add the cream and bring back to the boil, season with salt and pepper.
Add the grapes and the chicken and warm through.