Cider-roasted pork with a medley of winter vegetables. This delightful dish is both warming and delicious. Great for family meals.
Pot-Roasted Pork with Cider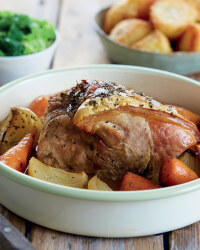 Recipe Information
Ingredients
1 British Pork Leg Joint approx. 1.69 kg
500ml Taurus Cider
250g Chantenay Carrots
4 Onions
1 Savoy Cabbage
1 tsp Stonemill Dried Sage
Black Pepper
1kg pack Champion Grade Roasting Potatoes
Quixo Meat Gravy Granules
Find your ingredients online on Click & Collect or find your nearest store using our Store Finder.
Method
Preheat the oven to 220oC/425oF/Gas Mark 7.
Peel the onions and cut into quarters.
Wash and trim the carrots.
Put the pork in a large roasting dish.
Sprinkle over the sage and pour over the cider and put the carrots and onion wedges around the sides of the pork.
Season with some black pepper.
Put the pork in the oven and cook on high for 30 minutes to brown the top.
Turn down the oven temperature to 190oC/375oF/Gas Mark 5.
Cover the pork with tin foil and cook for 2 hours.
30 minutes before the pork is ready put the roasting potatoes in the oven on a baking tray.
Remove the pork from the roasting dish; keep the carrots and onions warm while you make some gravy with the pork juices and the gravy granules.
Meanwhile shred the cabbage and cook in some boiling salted water for 10/15 minutes, then drain and serve with the pork and roast potatoes.