This delicious pasta dish is perfect for any occasion.
Prawn and Vegetable Tagliatelle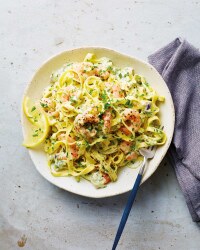 Recipe Information
Ingredients
2 180g Packs Frozen Specially Selected Raw Jumbo Prawns
250ml Soft Cheese
1 Large Red Onion
1 Courgette
4 Cloves Garlic
60ml White Wine
40g Specially Selected Parmigiano
200ml Reduced Fat Crème Fraîche
1 500g Fresh Tagliatelle
1 tsp Paprika
6g Fresh Parsley
30ml Olive Oil
Sea Salt and Black Pepper
Method
Defrost the prawns and drain.
Peel, half and finely chop the red onion, peel and mince the garlic.
In a large frying pan or wok , heat the oil and sauté the red onion and garlic on a low light for a couple of minutes.
Add the prawns and sauté for 5 minutes.
Then add the soft cheese, wine and the crème fraîche.
Grate the courgette and chop the parsley, add them to the pan along with the paprika and some salt and pepper.
Grate the parmigiano cheese, sprinkle over and stir gently.
Cook the pasta as per the instructions on the pack, drain and add to the prawn mixture and mix together.
Serve immediately.