Succulent pork imbued with delicious Mediterranean flavours.
Pulled Pork with Mediterranean Vegetable Base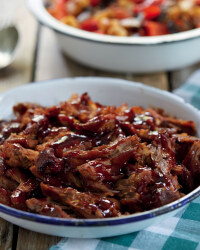 Recipe Information
Ingredients
2 x 380g packs Pulled Pork with Sweet BBQ Sauce
1 x 2 pack Sweet Pointed Peppers
1 x 250g pack Large Flat Mushrooms
1 x 250g pack Cocktail Vine Tomatoes
35ml Solesta Olive Oil
2 x slices sliced White Bread
1 x teaspoon Stonemill Paprika
1 x teaspoon Stonemill Dried Basil
Salt and Black Pepper
Method
Preheat the oven to 200˚C/400˚F/Gas Mark 6.
Cook the pulled pork as instructions on the pack for 45 minutes.
Whilst the pork is cooking cut the peppers in half lengthways, remove seeds and white pith.
Cut them again lengthways into quarters then chop into small pieces.
Chop the tomatoes and mushrooms into same size pieces.
Cut the bread into small pieces.
Mix the bread, oil, paprika and basil together, season well with black pepper and salt.
Mix the vegetables with the bread and oil mix.
Put into a 22cm square ovenproof dish and bake for 25 minutes.
Serve alongside the pulled pork.